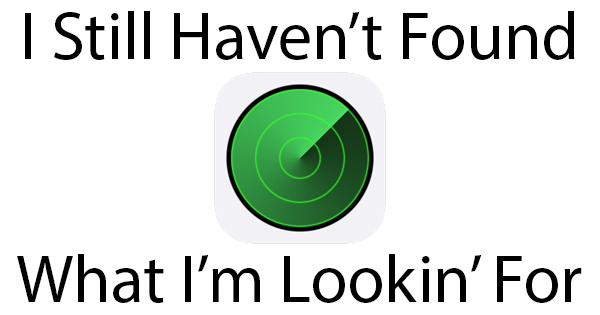 Way back in April 2015 we wrote a post entitled, "The Search is Over". In that post, we introduced the Find My iPhone app and gave a brief overview of the app's features and a crash course in how to use it. Last week, we met my mother-in-law on the road, and asked where she was headed. She told my wife and me that she lost her iPhone and was going to look for it at one of the three places she was just at. My wife said to me, "Give me your phone," and quickly pinpointed where her mother lost her phone. It was at that moment that we realized it was time to really explain the power of Find My iPhone. An untold number of people are probably burning expensive gasoline driving in circles while looking for their phones. It's time to stop the insanity. With an homage to Bono and U2, we bring you, "I Still Haven't Found What I'm Lookin' For". I often wonder if he's actually found whatever he's looking for yet. I mean, the song has been out for thirty years!
Find My iPhone is a free app offered by Apple. It uses your phone's GPS and Internet services to locate your phone in the event that it's lost. Here's Apple's description of what the app can do if  a device goes missing: "Find My iPhone will help you locate your missing device on a map, remotely lock it, play a sound, display a message, or erase all the data on it." You can see how important this app can be when you need it the most. Enough about the features, let's get started. Chances are good that when you set up your iPhone initially that you enabled Find My iPhone. If you haven't, let's make sure it's active now, before something bad happens because there's no way to enable it after it's gone missing. If for some reason you don't have the Find My iPhone app, you can download it from the App Store. Tap "App Store", then hit the magnifying glass, and type Find My iPhone. Once we've established that the app is installed and ready to go, we need to head to "Settings". Depending on the iOS version your phone has (Apple's operating system) you'll need to either tap on your name at the top of the "Settings" menu, or scroll down and tap on "iCloud". After tapping on your name, you'll then tap "iCloud". The steps are the same from there. Scroll down and look for "Find My iPhone". When you find it, tap on it, and then tap the on/off switch to on (it turns green) to enable Find My iPhone. Below that switch, you may see another one for "Send Last Location". This is important to turn on as well, because Apple will receive the last known location of your phone as the battery is about to die. This location could mean the difference between finding your device, or shelling out the money for a new one.
To use Find My iPhone, tap on the app and enter your Apple ID and the associated password. In the example of my mother-in-law's lost phone, my wife entered my mother-in-law's Apple ID and password on my phone so we could see exactly where her's was. The device will appear on a map. When you tap on the phone's location, you'll be presented with options. These options include "Play a Sound", "Lost Mode", and "Erase iPhone". It's easy to see which option is the most drastic! When you're getting close to the phone, playing a sound would obviously be helpful. Lost Mode allows you to lock the phone (if you don't use a passcode), and you can also display a message with your contact information should someone find the phone. Erase iPhone is pretty self-explanatory. Hopefully things won't progress that far! Also, you'll see an icon of a car. If you tap on the car, it will open the Maps app and give you specific directions so you can be successfully reunited with your device.
Find My iPhone is like having car insurance: it's necessary to have, but you hope to never use it. For the price of your device, you need to do all you can to protect it. By the way, you may have noticed I've been saying device throughout this piece. Find My iPhone will also locate your iPad, iPod touch, or Mac. With Find My iPhone, you won't have to be like Bono and spend thirty years trying to find your device!