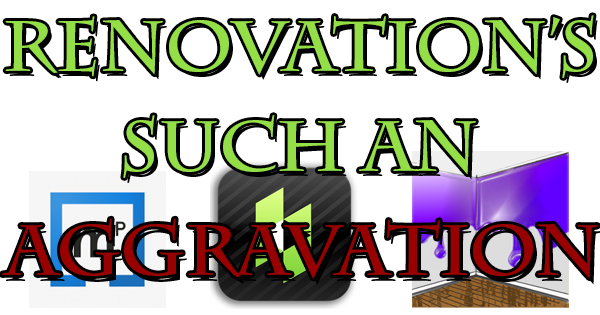 If you've been through a renovation, you know! We're currently going through our own, as we close on our first home. It's an existing house, built by my aunt thirty years ago, but my wife wants to put her own touch on the building. What can I say, she watches a lot of HGTV. I've seen the vision, though, and it's going to look gorgeous when it's finished. Of course, since we're doing most of it ourselves, it's going to take a little bit of time to make it to the finish line (no pun intended). Since going through the process, we've discovered a few apps on our phone's which have made things a little easier, so I though I'd share them with you. Today we introduce you to magicplan, Houzz Interior Design Ideas, and Paint Tester.
If you're building a new home, you're able to design a floor plan to your specifications. Heck, a new house is a blank canvas. The details are a little harder to come by if you've chosen the path that we have. Since we never seem to have a tape measure when we need one, a lot of measurements come via the heel-to-toe method. Of course, my wife's feet are half the size of mine, so our mileage varies. Fortunately, through the "magic" of modern technology, you can create your own floor plan with your smartphone, and the magicplan app. To measure the dimensions of a room, first, allow the app to access your phone's camera. Next, stand in the center of the room, and point the camera at your feet. Then, simply walk around the perimeter of the room, adding corners as you come to them, and you'll finish with very accurate room dimensions. You can then lengthen or shorten walls, add objects such as doors and furniture, and have a fully completed floor plan of each room in the home, for free. No more guessing what size a room is!
I have a horrible time picturing design ideas. Thank God for my wife, because I have no vision whatsoever. I tell her that I trust her and will put whatever paint on whatever surface she tells me to. Very little arguing goes on (about this) because I just can't visualize these things. If you can relate to me, you need Houzz Interior Design Ideas too. This app is also free, and features more than 15 million high-resolution pictures of home interiors and exteriors. You can search by style or room type, share photos with family, friends, or contractors, and draw on and make notes on pictures with Houzz's sketch feature. You may buy home decor (often at a discount) directly from the app, and be taken to an item of interest that you may see in a photo. Like a recliner in a living room photo? You can be taken automatically to that recliner in the app's store to purchase it. Finally, the coolest and most important part of the app for me is this (from the App Store description): " Wondering what that sofa would look like in your living room? Select the View in My Room 3D feature and use the camera on your iPhone or iPad to see 500k 3D products would look in your space." Awesome.
The first business I ever had was a painting business with my step brother while we were in high school. The name was Prime Time Painting, and the slogan was, the very clever, "No runs, no drips, no errors". There was probably false advertising in that slogan, but, hey, we did our best. Like I said before, my wife tells me which colors to paint on which walls and I do it. I can't tell a blessed thing from a small paint swatch. Paint Tester is for people like me. With the free Paint Tester app, you can take a picture of a room or wall in your house, and choose a color to see exactly what that color will look like on the wall. Simply use your phone's camera to take a relatively well-lit picture of the wall, and you're on your way. The app's paint bucket tool will globally paint every like color in the room the color of your choosing. I had the best luck using the tape tool and marking off the spots I wanted to be a certain color. I had an idea for a website like this back in the Prime Time days (there was no such thing as an app back then), but, of course, timing is everything and I didn't come up with it in time. At least I have this technology thing to fall back on!
I have no idea how people could build or renovate without today's modern conveniences. I say that half-jokingly, half-seriously. While renovating might be aggravating, these apps can help make the job just a little bit easier. All of the apps discussed today are available for both iOS and Android Devices via the App Store and Google Play. These will free up your time so you can spend more of it painting. I have twenty gallons of paint sitting in my entry as you're reading this. I guess I'd better end here and grab a roller!