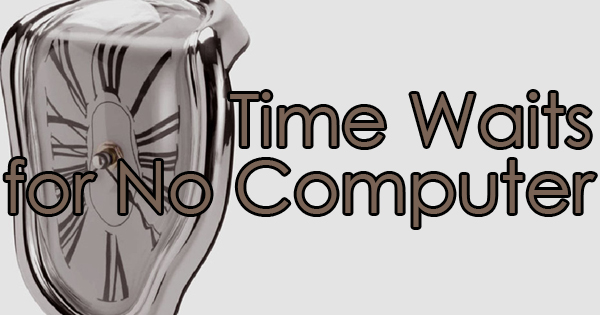 I hope you all had a wonderful Thanksgiving filled with hot food and warm memories. We did the "usual" where we had dinner at my in-law's first, followed by a second dinner at my mother's. Yes, we do two meals every Thanksgiving. It actually works out pretty well. I learned the first year that skipping breakfast is a bad idea. Getting the metabolism going with a bowl of cereal is crucial to avoid filling up at the first stop. I throw all caution to the wind at the second one, though, because there's no sense in saving room then…except for dessert. All that's left after the feasts is to digest (for quite a while) and to plan for Black Friday and Cyber Monday. I don't go to the stores, but there's plenty of deals to be had online on both days. Since today is Cyber Monday, I thought I would take "time" and shed some light on when it's time to upgrade equipment and software so you can take advantage of these savings if you find yourself needing to do so.
I'm sure that everyone has their own idea, but in my experience, I've found it to be a good idea to purchase a new computer every five years. If you don't use it often, or if the computer in question is a backup or "second" computer, you can probably get away with keeping it longer. But, for an everyday type of machine, you'll want to take the leap after half a decade. It's like deciding whether or not to trade in your car. Do you keep it and take a chance on spending extra money to keep it running, or trade it in and spend the money up front? Either way it's going to cost you money. Computers are like anything else. Components get worn out. New technology comes along that renders the current standard obsolete. If you're into video games or use other demanding programs, you might notice that your system is trending toward the minimum requirements for using that program so you won't experience the software as it's intended. Also, your needs may change, and you might require extra USB slots for other devices or more RAM (memory) than your computer may allow. If your computer is getting to that age and you've noticed it getting slower and slower, you're probably better off buying new.
If you're a faithful reader of the Finish Line Blog, you know how important security is to me. Practically daily new threats come along determined to sneak their way into our computers and steal our money and good name. While having anti-virus and anti-malware programs installed and up-to-date on a computer is a must to ward these attacks off, it's also critical to keep Windows Updates current to block any security vulnerabilities that may develop. Windows certainly isn't perfect, but you can't deny how many Updates are released to offer new features and prevent problems before they arise. Of course, Microsoft is in business to make money, and they make plenty of it. They also don't throw money away by devoting resources to outdated operating systems and software. Each Windows version has a life cycle. Microsoft stopped releasing updated features (mainstream support) for Windows 7 on January 13, 2015. They will continue to offer security patches (extended support) until January 14, 2020. Windows 8's mainstream support will end very soon on January 9, 2018, while extended support will run until January 10, 2023. Finally, mainstream support for Windows 10 will expire on October 13, 2020. Extended support continues until October 14, 2025. If you're reading this on a Windows XP or Vista computer, shut it off and go to the store because their support services have already come to an end and cannot be updated to avoid any cyber threats.
Microsoft has implemented a similar life cycle with their Office line. Because so many people use programs such as Word and Excel, evildoers are drawn to launch attacks on these applications. If you're using Microsoft Office 2003, stop. Support for it ended in October of 2008. Microsoft Office 2007? It last received an update last month, on October 10th to be exact. Office 2010 users are good-to-go until October 13, 2020. Office 2013 will be updated until April 11, 2023, and Microsoft's current version, Office 2016, will be kept alive until October 14, 2025.  It's very important to always install any and all Windows Updates specific to Microsoft Office to fix problems with the programs, and plug any security holes that might have been uncovered.
Knowing when to say when is always a difficult decision, and it's also one of my most asked questions. It's a little intimidating to many of us to pull the trigger on a new computer, but it's vital to keep things current for your own sanity and financial well being. If support has ended on your operating system, your decision has been made for you.