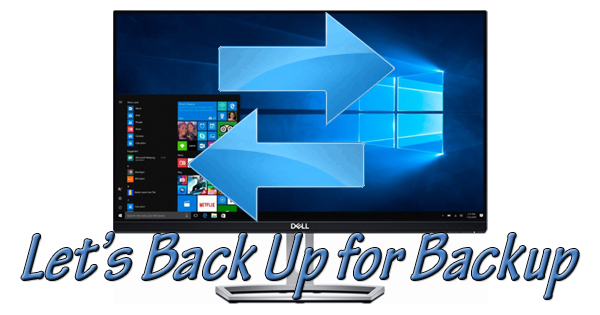 By now you're probably sick of hearing me "talk" about backing up your files and personal information. This is Blog post #151, and probably half of them have discussed the need for having regular and thorough archives of your data. To write so much about one topic probably means it's important. It is. While we've already covered devices and services that can be used for file backup (click here for "A Call for Backup"), today we'll piggyback off of last week's post that explored when to give in and buy a new computer. People ask me all the time how I know which files to transfer from an old computer to a new one. Today is the day we answer that question.
While Windows has a lot of critics, and God knows, some of the problems that (insert your "favorite" version here) the operating system create have driven me to the brink, the file structure takes a lot of the guesswork out of where to look for certain types of files. With the introduction of libraries in Windows 7, thing got even easier. Thanks to these libraries, all documents are grouped together (from a single user account) in the Documents library. Music files all appear in the Music Library. The same is true for all pictures as well as video files. I'll give you an example. The default file location as set by Windows for pictures is C:\Users\YourName\Pictures. My wife put the pictures from her computer onto mine for back up purposes. I have a folder on my hard drive called "Wife's pictures" (I have her name on my computer, but will leave it out here to protect the innocent. The pictures in the "Wife's pictures" folder are included in the Pictures library, so I don't have to think about copying that folder individually. That's a time and wrath-saving thing right there.
Let's get specific. The linchpin to access your files is the appropriately named "File Explorer". See the folder icon at the bottom of your screen? That's the File Explorer. To learn exactly how it works, how to access it, and what it offers, click here to read "Find Your Inner (File) Explorer." Once you've chosen the way you'd like to back up your files, be it, flash drive or external hard drive, and plugged the device into the computer, open File Explorer. The main things we need to back up are the Libraries and Desktop. Click on each individual library on the left side of the screen, starting with "Documents". Depending on the version of Windows you're using, you'll be greeted with "Organize", "Connect", "Share With", and "Burn", or "New Folder" at the top of the screen, or "File", "Home", "Share", and "View". If you see "Organize", click on "Organize", then click on "Select All" to highlight everything in the "Documents" library. Next, click on "Organize" again, and click "Copy" to copy all of the files to the computer's clipboard. On the left side of the screen, locate the drive letter for the back up device you're using and click on it (my flash drive is F). The window will display anything and everything that's on that flash drive. At the top of the screen click on "New Folder" and type "Documents" then press "ENTER". Now, double click on that newly-created folder, then click "Organize", and lastly, click "Paste". The documents that are on your computer will be placed on the flash drive or external hard drive. If your computer displays "Home" instead of "Organize" follow the steps above, but replace "Organize" with "Home". You'll find "New Folder" under "Home" as well. Use the guide listed above for each library as well as the Desktop. Also, feel free to click on "C" which is the main drive of your hard drive. Look through the list and see if you've created any personal folders here. If so, copy them over too. Don't worry about copying programs as they'll need to be installed on the new computer – copying won't work.
One other area that needs attention is your Internet favorites a/k/a bookmarks. The steps vary according to the web browser you use. If you're an Internet Explorer user, head to "File Explorer" again. Click on "C" then "Users", then "YourName" and double click on "Favorites". Copy your favorites over to the flash drive after creating a "Favorites" folder to differentiate these files from the others. Google Chrome, Firefox, and Edge differ in that only one file contains all of your favorites. In Chrome, click the "three dots" in the top right corner of your screen, then "Bookmarks", and finally "Bookmarks Manager". Next, click "Organize" then, "Export bookmarks to HTML file…". Click "Save" to save them to the "Documents" library. In Firefox, click the icon next to the star to show your bookmarks. Next, click "Show All Bookmarks" and a new window will open. Then, click "Import and Backup" followed by "Export Bookmarks to HTML file…" Click "Save" to save them to the "Documents" library. Last but not least, there's Microsoft Edge. Open Edge, and click the three lines at the top right of the screen. Scroll down and click on "Settings". Under "Import favorites and other info" click on "Import from another browser". Finally, select the last choice, "Export to file". Choose where you'd like to save the file, and then click "Save". Don't forget to copy and paste these files to your flash drive or external hard drive!
When switching to a new computer, the most critical part is the work you accomplish before the computer arrives. The work you put in beforehand saves a whole lot after the fact if you've forgotten something important. Though we created this post from the angle of purchasing and setting up a new computer, you should be doing this regularly anyway so you won't lose everything if something goes wrong. Performing a backup like this is something that every computer user should know.