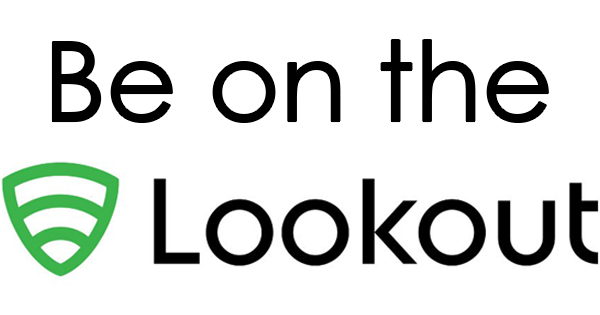 If you joined us last week, you learned the value of the Find My iPhone app. I thought I knew the value before, but it seems that "pregnancy brain" is contagious because in the almost year and a half since my wife has been pregnant and subsequently had the baby, my memory has disappeared as well. I used to think that such a phenomenon didn't exist, but trust me, it does. If you seem to be remembering that your memory used to be better as well, simply misplacing a cell phone becomes a more common occurrence than it used to be. While iPhone users have already been taken care of, we didn't want you Android owners to feel left out. Today we put the focus on Lookout – the app that Android users have been "looking" for!
Lookout is a free app that gives you access to real-time anti-virus and anti-malware protection, a System Advisor that makes sure the phone's operating system is working properly, and a Find My Phone feature that is similar to Find My iPhone. In addition to the free version, Lookout comes in Lookout Premium and Lookout Premium Plus flavors. These two are obviously paid versions, and with the additional cost, offer additional features. For the purposes of today's Post, we're going to focus on the free version of the app, and specifically, the Find My Phone aspect. The highlights of Find My Phone are: "Locate & Scream: Map the location of your device and make it sound an alarm – even when it is on silent! And Signal Flare: Automatically save your device's location when the battery is low" (from Lookout's description on Google Play). So, similar options you're presented with in Find My iPhone. The only difference with Lookout versus Find My iPhone is your phone's data cannot be wiped clean remotely with the free version of Lookout. Premium would allow you to do so. Still, Lookout is a great alternative for Android users.
If you'd like to add Lookout to your phone, tap Google Play and search for, yup, you guessed it, "Lookout". Follow the prompts to install the app. Lookout will alert you to any "Settings" changes along the way that are necessary for the app to work properly. After the installation is completed, open the app, and create an account. Enter your e-mail address and come up with a password to get started. You'll need this login information to sign into your account on lookout.com from another machine should your device ever be stolen. Simply tap "Find My Phone" and your phone's whereabouts will appear on a map. You're then given the opportunity to receive driving or walking directions via Google Maps, or send out an audible alert by tapping "Scream".
I should mention that Lookout is available for your iPhone as well if you'd rather use it than Find My iPhone. Of course, Apple continuously brags that it's impossible to contract a virus on one of their products, so the anti-virus portion of Lookout isn't necessary. It seems like this claim won't be true forever, but who am I to judge? Either way, be sure that this tool is installed and ready to go on your device before you walk out the door. "An ounce of prevention is worth a pound of cure," after all!